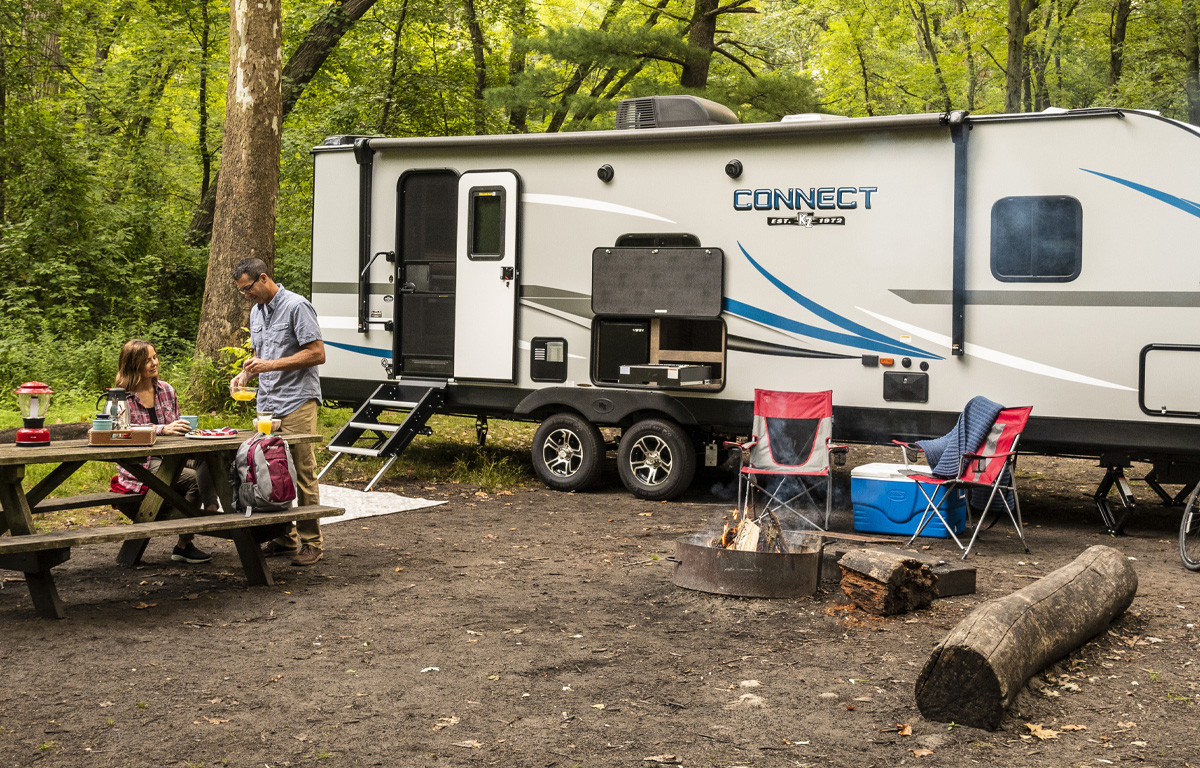 Top 5 Campgrounds in Quebec for your First RV Adventure as a Family
Are you planning for your first RV family adventure in Quebec? Looking for the best spots in the province? Quebec offers unique and enchanting wonderlands, picturesque landscapes, and distinct attractions. But you can't go family camping just anywhere.
There are numerous family-friendly camping grounds you can explore in and around the province that offer multiple amenities and fun activities.
5 Family RV Camping Resorts in Quebec That You Should Consider
For first time families looking to go on a vacation in their RV, here's a list of the top five Quebec family campgrounds.
1. Camping la Cle des Champs RV Resort
Take your RV rental and head south of Montreal, just 20 minutes from the U.S. border. You'll find this luxurious 5-star RV resort that offers excellent camping amenities. It has 35 overnight sites and 166 sites for long-term and seasonal stays.
The secure and serviced campground accommodates RVs of up to 45 feet. Services and activities available at the grounds include:
· Barbeques and fire pits
· 50 amp electrical hookups
· Wi-Fi
· Water sewers
· Heated pools and showers
· Fitness centers
· Bingo
· Pool table
· Water exercises and aerobics
· Biking, golfing, and organized tournaments
This resort allows pets, but they should be leashed at all times.
2. Camping Transit in Levis
Simplicity, comfort, and tranquility define this scenic French-Canadian camping spot. Covering a base area of over 3000 square feet, the grounds have great amenities including running water, access to the sewer, choice of 15/30/50 amps of electricity, laundry room, showers, and restrooms. It also comes with a snack bar/lounge and a recreational hall where festivals are held.
3. Camping municipal de la pointe de Rivière-du-Loup
If you're looking for something closer to nature, then this is the spot. Located at the banks of Saint Lawrence River. This scenic family campground is filled with tall green trees, fresh air, and serenity.
The campground offers a view of the Saint-Lawrence river. It also comes with numerous family-friendly amenities, including:
· Playground area
· Bike paths
· Restaurants and grocery store close buy
· Free Wi-Fi
· Campsites with 30 to 50 amps electricity service
· Laundry rooms, showers
· Community Hall
· Bike loan
· Water game
This is the perfect vacation spot to escape the hassle of the city.
4. Camping Alouette
Located in Montreal between St-Hillaire and St-Bruno mountains is this beautiful 4-star campground resort that's opened all year round. Under the Parkbridge franchise, this camping spot is an excellent family vacation destination with over 3000 square feet area set aside for recreational activities.
It has fully-serviced grounds with water, electricity, laundry room, sewer system, showers, restrooms, playgrounds, nature trails, game tables for pool and ping pong, and more. You can also take in the scenic view of the old Montreal, Mount Royal, and the Notre-Dame Basilica.
5. The Pointe-aux-Oies Family Campground
Its hidden location gives it unique tranquility to help you escape the busy city life. It features numerous amenities and services including heated pools, Wi-Fi, dump stations, laundry rooms, convenience stores, hot water showers, and activities such as board games, ball games, mini-golf, and biking.
You'll also find entertainment for all (kids, youth, and elderly), themed days, and delicious meals served throughout.
Buy or Rent an RV for Your Family Vacation
Your RV can make or break your family vacation. If you have a campground in mind, buy or rent a state-of-the-art RV from our site. We have a wide range of new and used inventory to meet the needs of every family.
For a memorable family camping experience, browse our RVs for sale and RV rentals to find something suitable for your family.