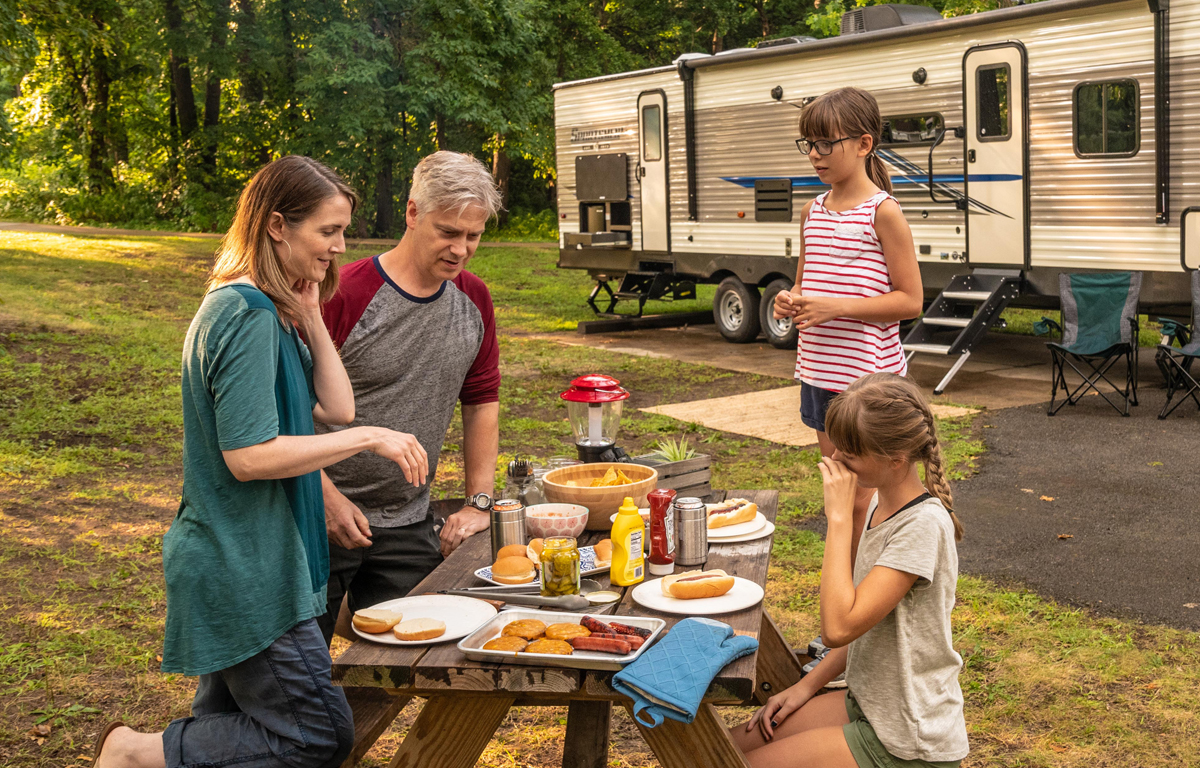 5 Reasons Why We Love RV Camping
Thinking of camping the stress-free way?
The first thing that'll probably come to your mind is cruising the open road with a trailer fitted with all kinds of amenities. RV camping is fun because you get to experience the countryside conveniently without sacrificing on comfort. Therefore, for your next camping vacation, consider buying or renting an RV.
Why Plan for an RV Camping Vacation?
Apart from the convenience that comes with having an RV on your camping itinerary, below are five other reasons why we love RV camping:
Room for Family and Pets
Unlike other types of family vacations that may restrict you from bringing your beloved pet with you, an RV camping trip is all-inclusive. You don't have to keep your furry friend caged or leashed at all times. Simply get yourself an RV, bring everybody on board, and hit the road.
Depending on the size of your family and your needs, ensure you get a spacious RV. For example, some motorcoaches and fifth wheel can comfortably accommodate up to 12 people, while tent trailers and toy haulers can fit 4-6 people. Instead of buying a new RV, you can trade-in your old one with a more spacious modern RV for a comfortable family camping trip.
Home Away from Home
Let's face it – we love the outdoors, but we also don't want to sleep in a tiny tent when it's cold outside. To enjoy a tranquil vacation in new places without feeling you left home, get yourself the luxury of an RV.
Most of these trailers come with comfortable reclining seats, WiFi, TV, sound system, bathrooms, microwaves, gas cookers, comfy mattresses, refrigerators, and basically anything that you can find at home. Even better, you can always custom-fit your RV with all the amenities you see necessary.
Save Money on Your Family Vacations
RV camping allows you to go on vacation for an extended period without worrying about costs. You also don't have to worry about delayed flights, expensive accommodation, and check out times.
With camping vacations, you can save money by utilizing free RV parks and cooking your own food. Perhaps the only cost you need to worry about is gasoline, which you can also cut down by renting a fuel-efficient RV.
Being in Touch with Mother Nature
Did you know that the great outdoors is good for your health? Studies suggest that surrounding yourself with nature can help improve mental clarity, boost your immune systems, and even lower your blood pressure.
If you're recovering from a mental breakdown or even an illness, camping can be a recommendable part of your recovery journey. You'll also be able to sleep better when you're outdoors.
Get to Meet New People
When you take a vacation in a hotel, people keep to themselves. However, with RV camping, especially in campgrounds and RV parks, you can have a lot of fun with fellow campers. These sites often have organized activities such as game nights or campfires that give you room to build meaningful friendships. Campers are generally friendly and more open to sharing their experiences and adventures.
RV for Sale at LeisureDays Gatineau
For the ultimate family camping vacations, it'll be wise to invest in a reliable RV. At LeisureDays Gatineau, we have a range of new and used RVs that will fit your camping needs and budget.
Browse our updated RV inventory or contact us for any inquiries.